Creativity-International

Delivering creativity workshops around the world.
The first two questions you might ask are:

What is creativity?

And,

what place does creativity have in Europe?
Creativity is the work that produces something new and valuable: products, services, businesses, theories, and breakthroughs. Creativity is the catalyst for innovation. There is no innovation without creative production.
Around the world, more than two-thirds of people believe that creativity is the key to economic growth. Yet in the UK, only 35 percent people believe that they are living up to their creative potential. In Germany and France, it's just 15 percent!*
Creativity is not something the organization does, it's what the people in the organization can do and are encouraged to do. Richard Branson has said, 'A business has to be involving, it has to be fun, and it has to exercise your creative instincts.' And: 'Above all, you want to create something you're proud of. This has always been my philosophy of business.'**
Creativity-International delivers creativity workshops to organizations around the world. Our master trainers can come to you, or, for an immersion in American creativity and culture, you can bring your group to the United States.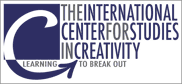 Join us for a four–day seminar on
Creativity & Change Leadership
Supercharge your creative ability in just 4 days!
Our program will teach the tools and methodologies to optimize innovation, giving leaders and future leaders a competitive advantage.
Who is right for the program:
• Executives who are faced with strategic challenges in their organizations
• Directors, Managers, and Supervisors who want to empower their entire team with the tools to innovate
• Future leaders & people who want to gain a competitive edge
• Professors who want to gain an understanding of the theory and practice of creativity
• Students who want to set themselves apart before entering into the workforce.
Our curriculum stems from over 40 years of experience and evidence-based research. We educate on aligning creativity with product development, strategic innovation, and enterprise innovation.
Gain a Personal Advantage with Your New Knowledge and Ability in Creativity
Reduce Risk and Accellerate Innovation with a Repeatable Process
Drive Innovation, Making the Competition Less Relavant
Empower Your Team to be Innovative
Click

here

to see a sample program outline.